Posted on
October 17th, 2006
by Goff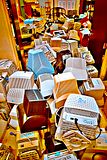 It's not Forbes magazine. It's neo -hippy -do -good -won't -ipo -customer-focused -san-francisco -kook -free-speech -of-a-business that's changing offline small business as much as any online entity. Thanks to Craigslist, I just rented my little backhouse in a single day for the third time in five years, at my asking price with plenty of back-up interest. Cost: $0
After the guy who re-did the shower and another who hauled away the junk, Craigslist served up the recent-immigrant entrepreneur whose team cleaned and shampooed the rugs. He doesn't know where that list came from or who this Craig is, but "I don't waste my money on the other places anymore. I stopped every one." Not a single ad in newspapers, yellow pages, penny savers, or Yahoo Local like he used to. He gets more calls, almost all from the better-off with more computers. And that's fine by him. As is the cost. He doesn't think much of the prospects for newspapers going forward. Does a good job too.

And finally, a business-travel lifehack that's made my life better…Since about a year ago, if I am in a city for more than a few days with work to do, first thing I buy a used CRT monitor off Craigslist. I send off 3-5 emails when i hit town and usually get a quick response. The longest took 5-6 hours. They're about 1/10th the cost asked by retail rental services, and these monitors are conveniently all over town rather than in a single store. Here's the rss feed for monitors under $100 in NY.
I acquired one after a late flight, when it was hard to get a cab but a seller responded in minutes. I was back at my hotel, set up, and revising notes for a morning meeting within 20 minutes. There's always a choice of 17" and 19" models, ranging from "come and get them" to "$35". And I've been lucky to find always find them blocks or a quick cab from my where i'm staying. Most laptops support extended desktop mode, so even a 15" doubles your work area. Twice, I got a full size keyboard thrown in when i asked if they had one for sale. (You can also get them new for under $10 in discount stores.). And when i leave….
Then I just abandon them. I just check out. I leave them in the room. **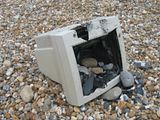 It feels wrong. I've offered a last gasp of life to those beasts that will never be allowed on my desk at home again. Hotels won't hold them for others because they really are big and ugly. The maids don't want them, nor could they get a 1000 pound monitor out without some management rule kicking in. I've offered them back to sellers saying I'd leave the monitor for pick up at the front desk. But even with assurances that i'm not looking for a refund, they admit they don't ever want to see the things again.
I even tried to ignite an entrepreneurial flame in one seller, promising i'd rent one every time if he'd deliver and pickup. And i assured him there were clearly others like me. He wasn't having it. Maybe someone else out there can make that work. Othewise, I'll keep doing this until they're gone.
**ASIDE (Tip): I have learned to leave a note taped to the screen so you don't get off the plane to messages on every number you have from the concierge, proudly assuring you that your precious equipment is safe and will be shipped off and billed to your credit card. I did head that off.
cc attribution license pics. By Flickr members: southernpixel, endlisnis, and akubba

Tweet